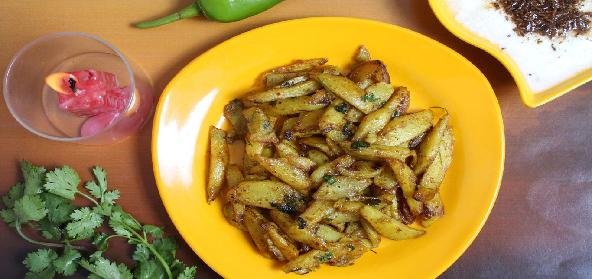 Ingredients:
• 3 – large Potatoes
• Refined oil for deep frying
• For Khatti Meethi Chutney:
• 1/4 tsp – Fennel seeds
• 1 tsp – Sugar
• Tamarind
• Black salt
• Chaat masala
• Black pepper powder
Method:
Peel the potatoes and cut them into cubes (approximately 1 inch each).
Heat oil in kadai.
Lower the flame and add the potato pieces in the kadai.
Let them deep fry till they turn light brown along the edges.
Place a pan of water on fire.
When it has boiled add tamarind as per taste.
After 5 to 6 minutes, mash the tamarind and remove the seeds from this mixture so that a uniform liquid is left.
Now add sugar, black salt, fennel seeds (roasted) and black pepper powder.
Mix well to get the chutney.
Take out the potatoes from the kadai when they are crispy enough.
Pour the chutney over the potatoes.
Also add some black salt and chaat masala and mix well.
Recipe courtesy of Ekta Sharma