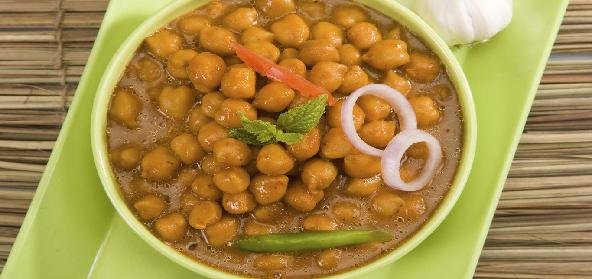 Ingredients:
• 2 – Potatoes (diced)
• 1 cup – garbanzo beans (channa)
• 2 medium – Onions
• 1/2 cup – Tomatoes
• 3 – Green chillies
• 1 tbsp – ginger-garlic paste
• 1/2 tbsp – Red Chilli powder
• 1/2 tsp – Turmeric powder
• 1 tsp – Garam Masala
• Curry leaves
• 1/2 cup – coriander leaves, grated
• Salt as required
• 3 tbsp – oil
Method:
Soak Garbanzo beans (chana) overnight. Boil chana and diced potatoes in a pressure cooker.
Cut the onion and green chillies into thin long slices.
Heat oil in a frying pan and add onion slices and fry till it turns light brown.
Add tomatoes, green chillies, ginger-garlic paste, curry leaves, salt and fry for 2-3 minutes.
When the masala starts boiling, add red chilli powder, turmeric and garam masala and stir it well for a few minutes.
Once the masala is done, add boiled potatoes and chana to the masala mixture with some water.
Let it boil and when the gravy becomes thick, remove from fire.
Dress the dish with coriander leaves and serve hot with chappathis or rice.
Recipe courtesy of san.smiles