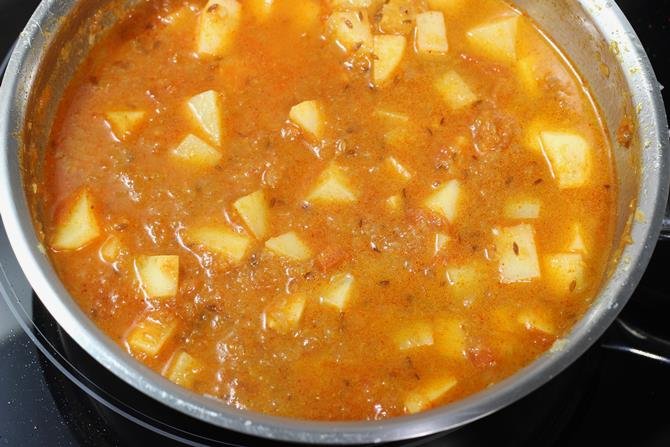 Very delicious and easy Aloo recipe. Boiled potatoes cooked with green chili, tomatoes and curry leaves become tastier and give yummy taste to potatoes. Aloo curry takes very easy less time to cook, whenever you don't have vegetables to cook or don't want to eat green vegetables you can cook Aloo Curry and enjoy it with roti or rice.
Ingredients
– 500 gm boiled potatoes
– 2 onions
– 4 finely chopped green chili
– 2 chopped tomatoes
– 1 teaspoon mustard seeds or cumin seeds
– 3 tablespoon oil
– 1 tablespoon coriander powder
– 7-8 curry tree leaves
– Salt to taste
– Coriander
How To Cook?
1. Heat oil tempering in a frying pan then add mustard seeds, cumin seeds when mustard seeds and cumin seeds splutter add curry tree leaves.
2. Now, add chopped green chili and onion to it and fry it for 5 minute till it turns golden brown.
3. Then add chopped tomatoes and boiled potatoes and mix it and let it cook for 10 minute.
4. Now, add half cup water and salt to it and cook it for 10 minutes.
5. Remove it from heat and sprinkle coriander powder to it and garnish it with coriander leaves and serve hot.
Preparation Time: 10 Minutes
Cooking Time: 20 Minutes