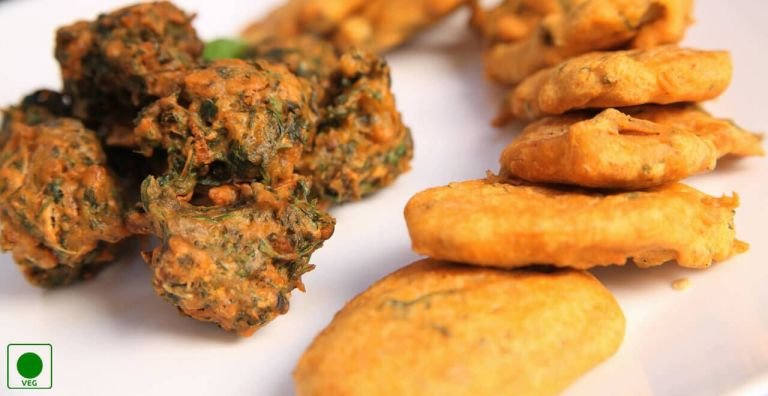 Aloo Pakora is a thin potato slices dipped in a besan batter and deep fried into the oil. It's a delicious Indian snacks that you can enjoy in the rainy days with hot cup of tea. Aloo pakora is very tasty and very easy recipe that you can instantly make. When you have so many friends and relatives at home and want to serve them something hot and crispy instantly, then you must have to try this one. You can serve the aloo pakora with green chutney or tamarind chutney, hot tea and fried chilies. Learn how to make aloo pakora.
Ingredients
– Oil for deep frying
– 2 big potatoes, slice into thin round shape
– 2 cup besan
– 1 teaspoon carom seeds (Ajwain)
– 1/4 teaspoon turmeric powder
– 1 teaspoon red chili powder
– A pinch of baking soda
– Salt to taste
– Water as required
– 2 tablespoon chopped coriander leaves
How To Make?
1. In a bowl, add gram flour, baking soda, ajwain, turmeric powder, salt, red chili powder, 1 tablespoon oil, coriander leaves and carom seeds.
2. Add water to this mixture as required and mix them properly.
3. Whisk the batter until it becomes smooth and thin. Make sure that the batter will not become too much thin.
4. Now, place oil in a deep frying pan and put it over the HIGH heat then reduce the heat to MEDIUM.
5. Now, dip the potato slice into the besan batter and cover it fully with the batter and slide them into the hot oil.
6. Repeat the same procedure with the rest of potato slices and deep fry them into the hot oil.
7. Fry the pakoras until it becomes crisp and golden brown.
8. Remove the pakoras from the oil and place them on the absorbent paper to drain the excess oil.
9. Serve the hot aloo pakora with green chutney and hot tea.
Preparation Time: 10 Minutes
Cooking Time: 10 Minutes
Servings: 4 Persons