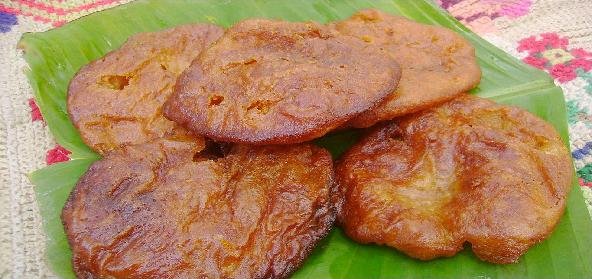 Ingredients:
• 3 cups – Rice
• 3.5 cups – Sugar powdered
• 1/2 to 3/4 cup – Milk
• 1 tbsp – Khus Khus (poppy seeds)
• 3 cups (approx.)- Ghee
Method:
Wash and soak rice for 3 days, changing water each day. Wash and drain water, dry on a thick soft cloth, till dry.
Grind into powder and mix with sugar.
Press dough tightly, keep aside covered, for 2-3 hours.
Sprinkle very little milk, knead into smooth, stiff, dough.
Add milk very carefully, as sugar may make the dough soggy and soft.
Divide dough into 50 parts. Keep covered with a moist clean cloth.
Use a clean plastic sheet.
Sprinkle a few grain of seeds, mould one part into a thin round.
Press onto poppy seeds.
Put 4 tbsp. ghee for heating in a thick-bottomed frying pan.
When hot, place the round, seeds side up, in ghee.
Shallow fry till golden on low-medium heat.
Drain keep aside to cool. Add more ghee to pan as required.
Heat, and repeat for all dough.
If done rightly, they should have a fine mesh-like look on them and be crisp.
Otherwise they have been underdone in centre.
Store in airtight container after completely cooled and crisp.
Recipe courtesy of Saroj Kering