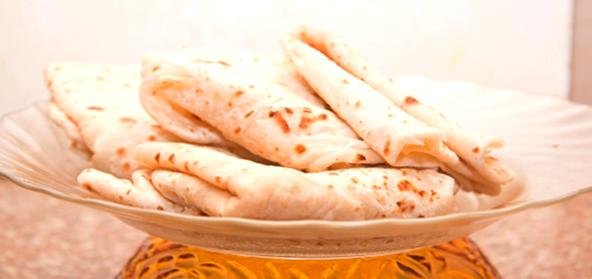 Ingredients:
• 250 gms – Wholewheat flour
• 4 – eggs, beaten
• 2 tsp – Ajwain (carum seeds)
• 1 tsp – Red Chilli powder (optional)
• Salt to taste
• Oil for smearing and shallow frying
• Whole Wheat flour for sprinkling
Method:
Knead flour, with some water to form a pliable dough. Keep for 30 mins.
Divide into 4 equal sized balls.
Roll out the balls into 6 inch diameter discs.
Smear oil on the surface and sprinkle some flour, ajwain, salt and red chilli powder on it.
Fold to form a semicircle.
Smear a little oil and sprinkle flour once again. Fold to form a triangle. Cook on both sides till brown specks start appearing on the parathas.
With a knife, gently lift up one flap and pour in 1/3rd of the beaten egg.
Flip over and cook on low heat. Put 1/3rd egg each into the other 2 folds.
Apply 1 tsp of oil on both sides and cook till light brown and crisp.