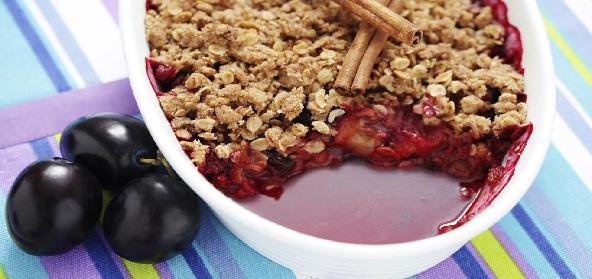 Ingredients:
• 2 medium apples, cored and cut into thin strips of circles
• 1 cup Plums – dried or fresh Plums cooked in Sugar syrup
• 2 cups breadcrumbs
• 1 cup Butter
• 1 cup Brown sugar
• In fresh plums:
• 4-5 Plums – seeds removed and cut into pieces
• 2 tbsp Sugar
Method:
Mix the bread crumbs, butter and brown sugar with your fingers to form sweet crumbs.
In a baking bowl, place a small portion of the plums at the bottom.
Place a layer of the apples on the plums.
Cover with a portion of the prepared sweet crumbs.
Again, make another layer by placing the apples first and then the plums and then the sweet crumbs. Prepare layers of the apples, plums and the sweet crumbs till all the ingredients are used up. Bake in a pre-heated oven for 10-12 minutes.
Cool and then keep in the fridge for 2-3 hours. Serve cold.