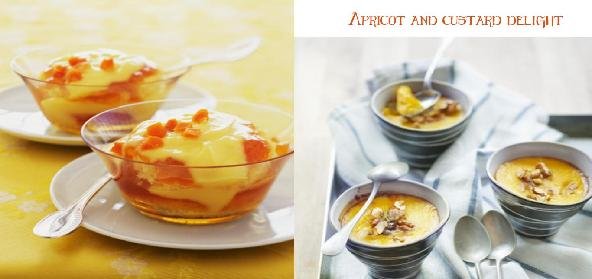 Ingredients:
• 2 cups – dried apricots, soaked overnight
• 3/4 cup – Sugar
• 1/2 cup – walnuts, chopped
• 1 liter Milk
• 5-6 tbsp – custard powder
• 1 cup – thick Cream
• For decorating:
• 2 tbsp – Walnut halves
• Apricot kernels
• 6 Mint leaves
Method:
Remove the seeds from the apricots.
Stone the seeds and remove the apricot kernels. Set aside.
Make the custard with 5-6 tbsp. custard powder and 1 litre milk and set aside to cool.
Combine apricots and sugar in a non-stick pan.
Cool on low heat.
Stir and mash the apricots with the back of the ladle as they cook.
When sugar melts and mixture is thick, remove from heat.
Add walnuts. Mix well, set aside to cool.
Spoon out the apricot mixture into a glass bowl to make the base layer.
Pour custard over it to make the second layer.
Pour cream over it to complete the third layer.
Refrigerate to set.
Decorate with apricot kernels, walnut halves and mint leaves.