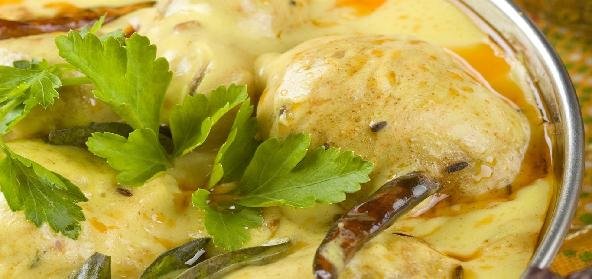 Ingredients:
• 5 – Colocasia roots, boiled with their skins.
• 1 bunch – Methi (fenugreek) leaves, chopped
• 1 cup – Soy yogurt
• 1 tsp – Canola or Vegetable oil
• 1 tsp – Mustard Seeds
• 1 – Medium onion, thinly sliced
• 5 Cloves – Garlic, minced
• 1 tbsp – Grated Ginger
• 2 heaping tsp – Tava masala
• 1/2 – 1 tsp – Red Chilli powder
• 1/2 tsp – Turmeric
• Salt to taste
Method:
Boil the colocasia. To test if done, pierce one of the roots with a fork in the center.
If it goes in fairly easily, it's done.
Set aside to cool before you peel them and then cut into 1/2 inch chunks.
Heat oil and splutter mustard seeds, add onions and stir fry until translucent and soft.
Add ginger, garlic and stir for another minute.
Add the methi leaves and stir for a few minutes until they begin to wilt.
Add the tava masala, turmeric and chilli powder and stir in.
Add about 1/2 cup of water, cook covered until the methi leaves are almost tender, for around 10-15 minutes.
Add the soy yogurt and the colocasia pieces and stir well.
If the kadhi is too thick, add some water and salt.
Serve with khichdi.
Recipe courtesy: Holy Cow Vegan.