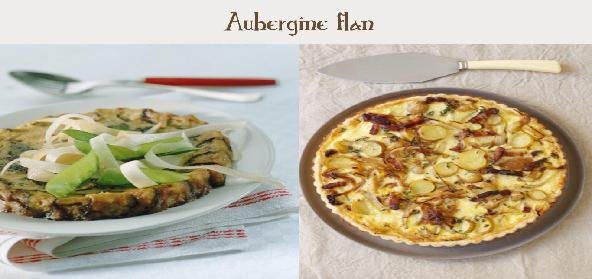 Ingredients:
• 275 gm – Aubergine (brinjals)
• 1 – small green pepper
• a little mustard
• Olive oil for brushing
• 3 – Egg yolks
• 350 ml – Cream
• 1 small Garlic clove, crushed
• 175 gm – grated cheddar cheese
• Salt and pepper to taste
• 2 – large Tomatoes
• A few black Olives
• Chopped parsley, marjoram and Basil
Method:
Make a pastry, roll out and put in greased flan dish.
Spread mustard over the pastry and chill the pastry.
Slice the aubergines very thinly and place in a single layer on an oiled baking sheet.
Cut the green pepper in thin slices, lay on top of the aubergines and brush with a little olive oil.
Bake at 200 degrees C for 20 minutes until slightly soft.
Beat the egg yolks, cream, garlic and cheese and season with salt and pepper.
Slice the tomatoes and remove the seeds.
Arrange the tomatoes in a single layer in the pastry case.
Cover with aubergine/pepper mix and sprinkle with the olives.
Carefully pour the egg mixture over the vegetables so that it just reaches the top of the pastry case.
Place on a baking sheet and bake at 200 degrees for 30 minutes, then sprinkle with the herbs and bake for another 20 minutes, or until set.