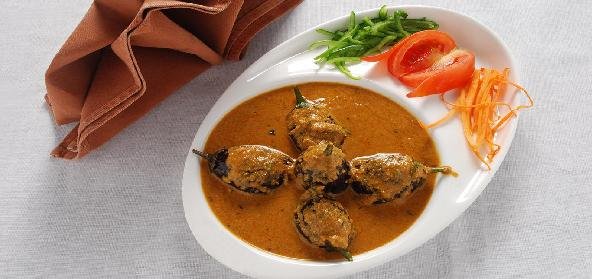 Ingredients:
• 10-12 – Baby Brinjals full ones (not more than 2 inch long).
• 1 bunch – Pudina (mint) leaves
• 1 bunch – Green Coriander leaves
• 3 to 5 – Green chillies
• 1/2″ – Ginger piece
• 8 -10 – Spring onion bulbs
• 1 – Tomato (medium size)
• 1/2 tsp – coriander (coriander powder)
• 1/4 tsp – Turmeric powder
• 1/4 tsp – Red Chilli powder
• 8 tbsp – Oil
• Cream / Fresh Butter for garnishing.
Method:
Wash the brinjals and remove the stems but don't remove the crown.
Slit into four (up to half of the brinjal); keep them in water or else they will turn black and bitter.
Clean the pudina, coriander leaves and keep them aside.
Cut the spring onion bulbs into four.
Grind pudina, green chillies, ginger, coriander leaves and spring onion bulbs to a paste. Half way in, add the tomato and blend. Add no water.
Add 1/2 tsp salt in the gravy.
Stuff the brinjal slits with the chutney liberally.
In a kadai (or a thick bottomed vessel) heat the oil and drop the brinjals slowly one after the other; keep the flame (heat) very low.
Add the turmeric powder, the chilli powder and the coriander powder one after another.
If there is chutney still left, add the same.
Cover the kadai / vessel with a plate and pour cold water on the plate (this will prevent the brinjals and gravy getting stuck to the vessel).
Keep a tab every five minutes and turn the vegetable and gravy without breaking the brinjals, so that it does not burn.
Once the brinjals are half done, add salt and cook for 10 minutes.
Garnish with green coriander leaves, tomato slices and cream / fresh butter and serve with hot plain rice.
If you are not counting your calories add fresh coconut in the gravy (1 cup) and cashew nuts fried in ghee on top while serving.
Recipe courtesy of Natarajan