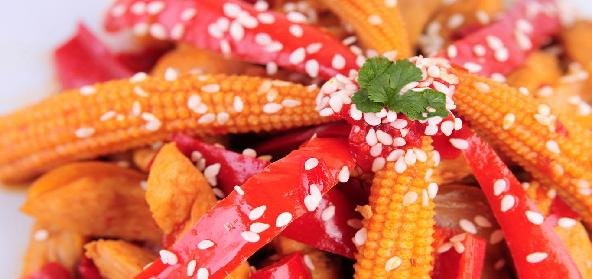 Ingredients:
• 2 cups – Baby Corn (either canned or fresh)
• Capsicum -1
• Onion -1 (big)
• Spring onions (the green part ) – a bunch
• Green chillies – 3
• Chopped coriander
• Chilli sauce – 1 tbsp
• Tomato ketchup – 2-3 tbsp
• Soy sauce – 1 tbsp
• Ginger-garlic paste – 2 tbsp
• Cornflour – 1 cup
• Chilli powder – 1 tsp
• Salt to taste
• Oil – To fry the Corn
Method:
Batter Preparation: Slice the bay corn into medium sized pieces.
Add the cup of corn flour, salt, 1 tbsp of ginger-garlic paste and the chilli powder.
Add enough water to make a very thick batter, mixing the baby corn with it.
For mixture: Heat some oil in a pan. Add the chopped green chillies and onions.
Now add the capsicum.
Add the remaining ginger-garlic paste.
Fry for 1-2 minutes.
Add the soy sauce, chilli sauce and saute for a few seconds.
Then add the fried baby corn followed by the tomato ketchup. Stir well.
If mixture is too dry, you can add some more tomato ketchup.
Now add the chopped spring onions and stir again for 1-2 minutes in low flame.
Garnish with coriander leaves. Serve in a bowl with tooth picks on the baby corn.
Yummy baby corn manchurian is ready.
Recipe courtesy of Savitha Madhu