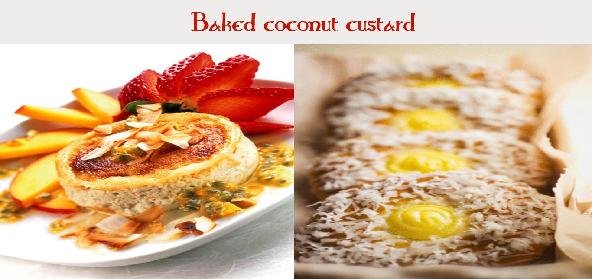 Ingredients:
• 1 cup – yellow split peas, cooked thoroughly and cooled.
• (Clean and wash peas in 3 cups water, put in boiling water, cover pan and cook for 35-40 minutes until very tender.)
• 1 tsp Butter
• 1 tsp flour
• 1.5 cup – Coconut Milk
• 1/2 cup – sweetened condensed Milk
• 1.5 cup – granulated Sugar
• 3 eggs
Method:
Preheat oven to 325 degrees F.
Beat peas with hand mixer until light and lemony in colour.
Add sweetened milk and beat till well blended.
Add coconut milk and beat.
Add sugar and beat till absorbed for two or three minutes.
Add eggs one by one until mixed into the custard.
Pour into buttered and floured 9.5 by 2 inch baking dish.
Bake for 60-70 minutes, until set in the center.
Cool on baking rack and serve.