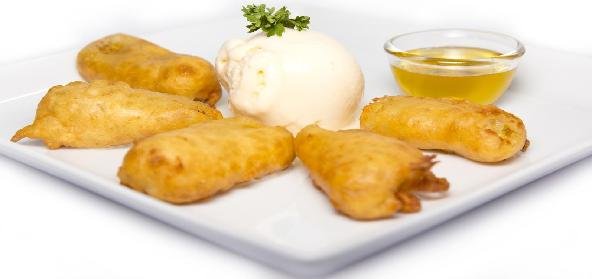 Ingredients:
• 5-6 – bananas, mashed (1 cup in volume)
• 3/4 cup – flour or Maida
• 2 pinches – baking soda
• 1/4 cup – ground Almonds
• 1/4 cup – desiccated Coconut
• 5-6 tbsp – Sugar
• Vegetable oil for frying
• For the Butter Scotch sauce.
• 50 gm – Butter
• 1/2 cup – Sugar
• 1 cup – double Cream or unsweetened condensed Milk
• 4 tbsp – Scotch or whisky
Method:
Peel and mash the bananas in a mixing bowl.
Sift flour, baking soda and ground almonds into the banana. Add sugar and coconut and mix well. You can add some milk to loosen the batter if it is too thick.
Using a tbsp, put dollops of the mixture in hot oil and fry until golden brown.
To make the sauce:
Melt butter in a saucepan and add the sugar. Stir constantly (on low heat) until the sugar melts and browns a little.
Add the cream (it should be at room temperature, not cold).
Stir the cream into the sugar keeping the heat low (the cream should not boil as it will split).
Depending on your taste, add 2-4 tbsps of Scotch to the sauce.
Serve hot banana fritters with chilled sauce.
Recipe courtesy of Mitali Majumdar