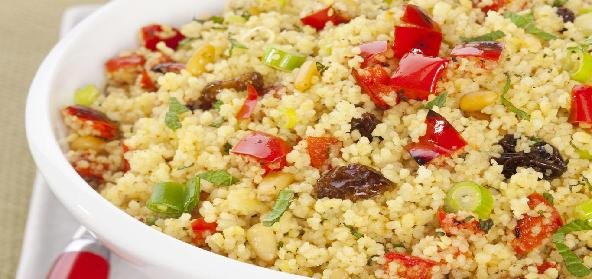 Ingredients:
• 400 gms – couscous
• 600 gms – boiling water
• 200 gms – each red, yellow and green bell peppers, oven roasted and cubed
• 40 gms – whole seedless Olives
• 60 gms – seedless Prunes
• 400 gms – cucumbers, peeled and cubed
• 2 tbsp. – Lemon juice
• 2 tbsp. – virgin Olive oil
• salt and pepper to taste
Method:
Put the couscous in a bowl, and pour boiling water over it. Cover and let it soak for 15 mins. Fluff with a fork and set aside.
Put the bell peppers, olives, prunes and cucumbers in a bowl and top with the couscous.
Whisk lemon juice and olive oil with the salt and pepper in a small bowl and add to the couscous mixture.
Toss well and serve.