Besan Barfi is a tasty Indian sweet recipe made from the gram flour. Besan barfi is a mixture of besan, sugar and ghee. Cardamom and dry fruits gives the rich taste to this sweet dish. In Gujarat, it is also known as Magas and it has slightly different preparation process than the usual one.
Preparation Time: 15 Minutes
Cooking Time: 30 Minutes
Servings: 4 Persons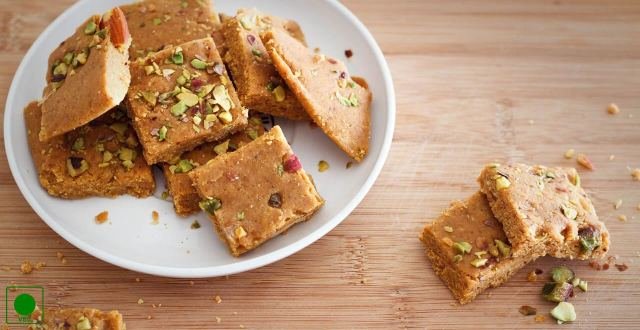 Ingredients
– 1 cup besan
– 1 cup sugar
– ? cup water
– 2 tablespoon semolina
– ? cup ground almond powder
– 2 cup ghee
– 1 tablespoon cardamoms powder
– 1 tablespoon pistachios for garnishing
How To Make?
1. Grease the plate with ghee and set aside.
2. In a bowl, mix besan, semolina, ghee and mix them. Let it sit for 20 minutes.
3. Heat the frying pan over the MEDIUM heat and add the butter to it and add besan mixture and roast it for 5-6 minutes. Keep stirring continuously.
4. Then add almond powder and cook it, once the mixture color is start changing to golden brown again cook it for 5-6 minutes. Then turn of the heat.
5. In another pan, add water and sugar to it and boil it over the MEDIUM heat and make a sugar syrup.
6. Mix this sugar syrup with the besan mixture and pour that mixture into the greased plate.
7. Now, sprinkle pistachios over the besan mixture and let it cool.
8. Once it's cool. Cut the besan barfi into the square pieces and serve it.