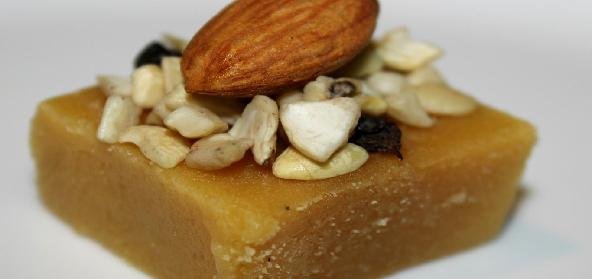 Ingredients:
• Besan – 1 cup
• Sugar – 3 cups
• Ghee – 2.5 cups
• Ghee for greasing
Method:
In a pan, melt ghee and continue keeping it in a simmer flame.
In another non-stick pan, take the sugar and add water just enough to soak the sugar.
Once the sugar syrup boils to a one-string consistency.
Add the besan and quickly stir.
Keep stirring and add hot ghee in between.
Continue stirring till there are sugar crystals and the mixture leaves the sides.
The indication to remove the mixture is when it starts leaving the sides and when you keep ladle idle, the mixture froths up.
Grease a plate with ghee.
Pour it on the plate and tap it so that it levels.
Cut it when it is slightly warm.
Recipe courtesy of vidya