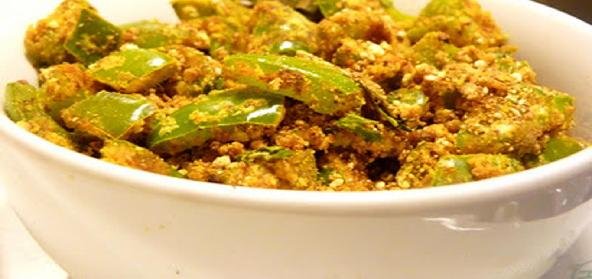 Ingredients:
• 3 tsp – Vegetable oil
• 1.5 tsp – Mustard Seeds
• 1/2 tsp – Turmeric
• 1/2 tsp – Red Chilli powder
• 1 tbsp – ground Coriander
• Salt to taste
• 3 green Peppers, cored and cut into 1 cm cubes
• 5 tbsp – Gram flour
• 1.5 tsp – Lemon juice
Method:
Heat the oil in a large non-stick frying pan.
Add the mustard seeds and once they pop out, add all the spices and salt.
Lower the heat and cook for 15 minutes.
Add pepper and stir fry for 3 minutes or until starting to soften at the sides.
Add gram flour and stir fry for another 3 minutes or until you can smell the gram flour, which means it has got properly cooked.
If you are not sure, stir fry it for a minute more.
Stir in the lemon juice and serve.