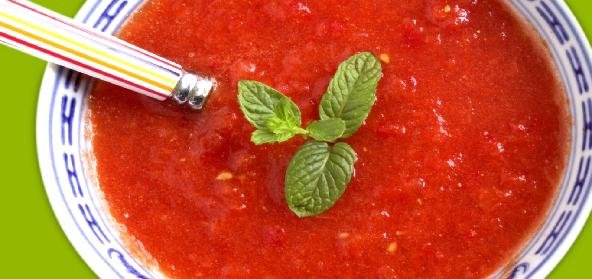 Ingredients:
• 1/2 cup – tomato, chopped finely
• 1 cup – besan
• 6 to 8 – green chillies, finely chopped
• 4 tbsp – coriander leaves, chopped
• 3 tbsp – oil
• 1 tsp – Mustard Seeds
• A few Curry leaves
• 3 cups – water
• Salt to taste
Method:
Heat the oil in a kadai. Add mustard seeds.
When they splutter, add green chillies and curry leaves. Fry for a few seconds.
Add tomato and cook till it becomes pulpy.
Add besan and fry for 2 minutes.
Remove from fire. Add water gradually, mixing well, till all the water is added and the mixture is smooth. Add salt.
Return to fire and cook, stirring all the time, till the mixture boils.
Simmer for 2-3 minutes. Stir in the coriander leaves.
The consistency of this chutney will be like a thick sauce after cooling a little. It may be served hot or warm.
It is a quick and easy accompaniment to pooris.