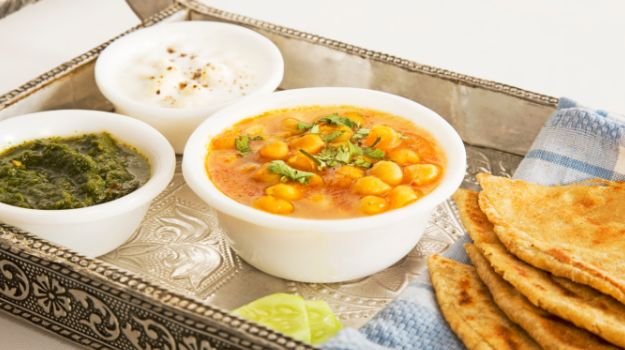 Gulab jamun is a milk-solids -based dessert, similar to a dumpling, popular in countries of the South Asian Subcontinent such as India, Sri Lanka, Nepal, Pakistan and Bangladesh, also in the Caribbean countries of Trinidad, Guyana, Suriname and Jamaica and in Mauritius. In Nepal it is widely known as Lal-Mohan, served with or without yogurt. It is made mainly from milk solids, traditionally from freshly curdled milk. In India, milk solids are prepared by heating milk over a low flame for a long time until most of the water content has evaporated. These milks solids, known as khoya in Pakistan and India, are kneaded into a dough, sometimes with a pinch of flour, and then shaped into small balls and deep fried at a low temperature of about 148
Roti is generally an Indian bread, made from stoneground wholemeal flour, traditionally known as atta flour, that originated and is consumed in India, Pakistan, Nepal, Sri Lanka and Bangladesh. It is also consumed in parts of South Africa, the southern Caribbean, particularly in Trinidad and Tobago, Guyana, and Suriname, and Fiji. Its defining characteristic is that it is unleavened. Indian naan bread, by contrast, is a yeast-leavened bread. A kulcha in Indian cuisine is a bread-like accompaniment, made of processed flour (Maida) leavened with yeast.
There are so many different ways to make Palda.We always make this yogurt-gravy based dish, when serving Pahari food. Palda is one of my brothers favorite dishes. In my mothers kitchen, we have two recipes for Palda
A paratha/parantha/parauntha is a flatbread that originated in the Indian Subcontinent. It is still quite prevalent throughout the area. Parantha is an amalgamation of the words parat and atta which literally means layers of cooked dough. In Burma, it is known as palata while it is known as farata in Mauritius and the Maldives. However, in areas of the Punjabi region, it is referred to as prontha or parontay.It is one of the most popular unleavened flat breads in the northern part of the Indian subcontinent and is made by pan frying whole wheat dough on a tava. The parantha dough usually contains ghee or cooking oil which is also layered on the freshly prepared paratha. Paranthas are usually stuffed with boiled potatoes (as in aloo ka parantha), leaf vegetables, radishes, cauliflower, and/or paneer (Cottage-cheese). A parantha (especially a stuffed one) can be eaten simply with a pat of butter spread on top, with chutney, pickles, and yogurt, or with meat or vegetable curries. Some roll the parantha into a tube and eat it with tea, often dipping the parantha.
Halva (halawa, alva, haleweh, halava, helava, helva, halwa, halua, aluva, chalva) refers to many types of dense, sweet confections, served across the Middle East, South Asia, Central Asia, West Asia, North Africa, the Horn of Africa, the Balkans, Central Europe, Eastern Europe, Malta and the Jewish world.
Korma, kormaa, qorma, khorma, kurma, or azid is a dish originating in South Asia or Central Asia which can be made with yogurt, cream, nut and seed pastes or coconut milk.
Kulfi is a popular frozen dairy dessert from the Indian Subcontinent. It is often described as traditional Indian Subcontinent ice cream. It is popular throughout places such as India, Pakistan, Bangladesh, Nepal, Burma (Myanmar), and the Middle East, and widely available in Indian restaurants in Australia, Europe, East Asia and North America.As popularly understood, Kulfi has similarities to ice cream in appearance and taste; however it is denser and creamier. It comes in various flavours. The more traditional ones are cream (malai), rose, mango, cardamom (elaichi), saffron (kesar or zafran), and pistachio. There are newer variations such as apple, orange, strawberry, peanut, and avocado. Unlike Western ice creams, kulfi is not whipped, resulting in a solid, dense frozen dessert similar to traditional custard based ice cream. Thus, it is sometimes considered a distinct category of frozen dairy-based dessert. Due to its density, kulfi takes a longer time to melt than Western ice-cream.