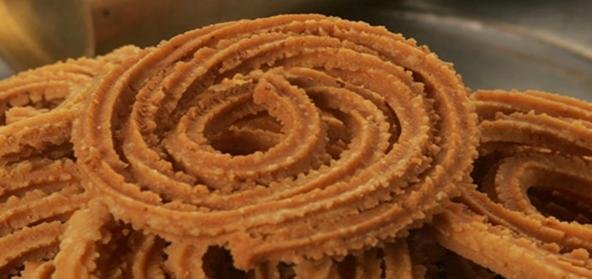 Ingredients:
• 2 tbsp – Nutralite
• Salt to taste
• 1 tsp – Cumin powder
• 1 tsp – Red Chilli powder
• Oil for deep-frying
• For Bhajanee flour:
• 4 cups – Rice
• 1 cup – Skinless split black gram (urad dal)
Method:
For the bhajanee flour, dry-roast the rice and black gram separately.
Cool completely and grind separately to a powder.
Sift both the flours and mix.
Put bhajanee flour in a bowl.
Add Nutralite, salt, cumin powder and chilli powder, and mix well.
Divide the mixture in half. Take one half and knead into a soft dough with 1/2 cup of water.
When the dough is used up, make a dough of the remaining flour.
Put small portions of the mixture into a chakli mould and press out several chakli onto a plastic sheet.
Heat sufficient oil in a non-stick kadai till moderately hot.
Deep-fry the chakli till light golden brown and crisp.
Drain on absorbent paper and set aside to cool.
Store in an airtight container.