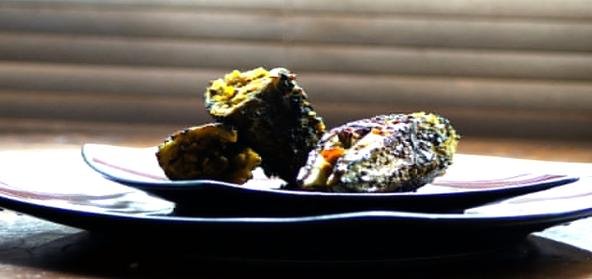 Ingredients:
• To Marinate:
• Karela (Pavekka) – 3 nos
• Lemon Juice of oneSalt – 2 tbsp
• Filling:
• Onion – 2 nos
• Green chillies – 3-4 nos
• Coconut Cuts – 25 grams
• Amchur (Dried Mango Powder) – 1/2 tsp
• Hing (Asafoetida) – a pinch
• Coriander Powder – 1 tsp
• Turmeric powder – 1/4 tsp
• Gram Flour – 3 tbsp
• Cumin Powder – 1/4 tsp
• Lemon Juice – of 1 nos
• Salt to taste
• Oil – 4 tbsp
Method:
Scrape the skin, till you end up in a smooth skin. Keep aside.
Scoop out the seeds with a teaspoon edge or your thumb. Discard them if they are hard and turned red. If the seeds and internal flesh is tender, I like using it in the filling.
Rub Lemon juice and Salt into the flesh of the Bitter Melon and leave it aside for atleast 30 minutes. Wash, pat dry with a kitchen towel and keep aside.
Finely chop the Green Chillies, Onion and cut the Coconut strips into small bits.
Heat Oil in a non-stick pan.
Add Onions and Salt to taste, stir on medium flame for 4-5 mins till translucent.
Add Coconut cuts, scrapings, Chillies and stir for another 4-7 mins.
Now add the Masala powders and Lemon Juice, stir for another 3-4 mins. Remove from flame. Allow to cool, before filling the Karela.
Tie with a string to keep it intact through the cooking process.
Steam for 5 mins, and later fry for 10 mins till cooked on all sides on medium flame.
Sprinkle Lemon Juice and serve as a side dish for Rice and other Curries.