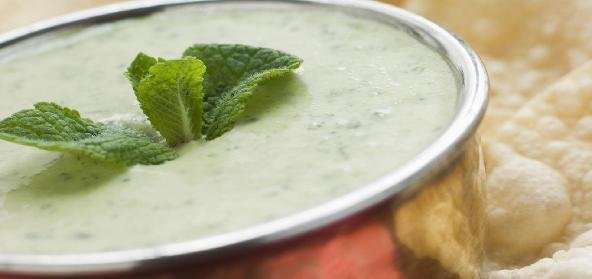 Ingredients:
• Bhindi/Okra: 1/2 lb
• Green Chillies: 10 to 15
• Yogurt or Buttermilk: 1/2 cup
• Coriander: Some sprigs
• Haldi: 1/2 tsp
• Jeera: 1 tsp
• Hing for taste
• Methi powder: 1 tsp
• Peanut Powder, sesame seeds powder: 2 tbsp each
• Salt to taste
Method:
Fry the green chillies and bhendi separately till golden brown.
Once they cool a little, grind the green chillies.
Add the rest of the ingredients – except yogurt/buttermilk and bhindi – and grind coarsely.
Now add bhendi and grind till they're done but not very smoothly as bhendi becomes mushy very quickly.
Now take the chutney in a bowl, add yogurt or buttermilk and mix it well.
If you like, you can add seasoning also.
This chutney goes well with rice and it's a substitute for curry and sambar.
Goes well with chapattis also.
Recipe courtesy of Bhavana