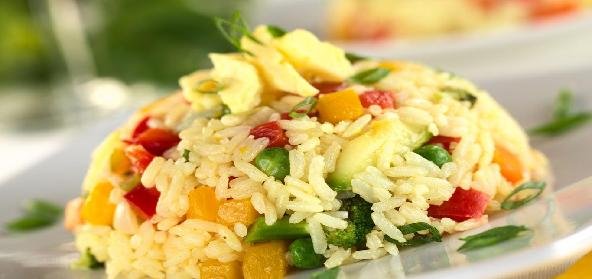 Ingredients:
• 3 large – red bell peppers
• 2 tbsp – Olive oil
• 3 – large Garlic cloves, thinly sliced
• 1.5 cups – chopped Tomatoes
• 2 Bay Leaves
• 5 cups of Vegetable Stock / Chicken Stock/Water
• 2.5 cups of Rice
• 6 fresh Mint Leaves, snipped
• 6 fresh Basil Leaves, snipped
• Salt and freshly ground Pepper
Method:
Broil the red pepper, until the skin is charred. Put the pepper in a bowl, cover with several layers of damp towels and set aside for 10 mins. Peel and slice thinly.
Heat oil in a wide, shallow pan. Add garlic and tomatoes, and cook over gentle heat for 5 mins.
Then, add the pepper slices and bay leaves. Stir well and cook for 15 mins more, again over gentle heat.
Pour the vegetable stock into a large, heavy saucepan and heat it to simmering point.
Stir the rice into the vegetable mixture and add the hot stock. Cook for about 2 mins, then add 2 ladleful of stock.
Cook, stirring occasionally, until all the stock has been absorbed by the rice.
Continue to add stock, making sure each addition has been absorbed before pouring in the next.
When the rice is tender, season with salt, pepper, mint and basil leaves.
Remove the pan from heat, cover and let it stand for 10 mins before serving.
Serve with: onion/cucumber raita.
Recipe courtesy of Lakshmi Sreevatsa