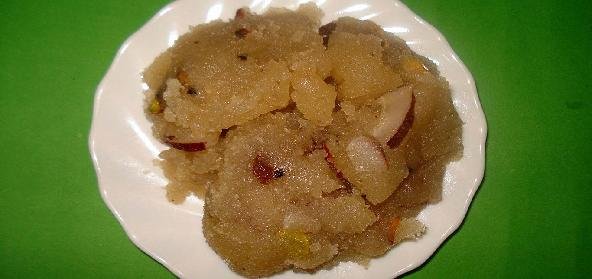 Ingredients:
• Corn flour – 120 gm
• Water – 2.5 cups
• Cream of tartar – 1/2 tsp
• Sugar – 3 cups
• Lime juice – 2 tsp
• Ghee – 1/2 cup, approximately
• Essence and color as required
• Chopped nuts – 1/2 cup
Method:
Mix corn flour with 1 cup water and cream of tartar and keep aside.
Make two thread syrup with sugar, 1.5 cups water and lime juice.
In a thick pan, cook the corn flour mixture till it forms a lump.
Remove from fire and mix in the sugar syrup.
Place it back on fire and cook, stirring, adding ghee gradually.
When the halva becomes thick and firm (after about 40 minutes), add essence, colour and half the nuts.
Pour in a greased pan. Sprinkle remaining nuts on top. Cool and cut into pieces.