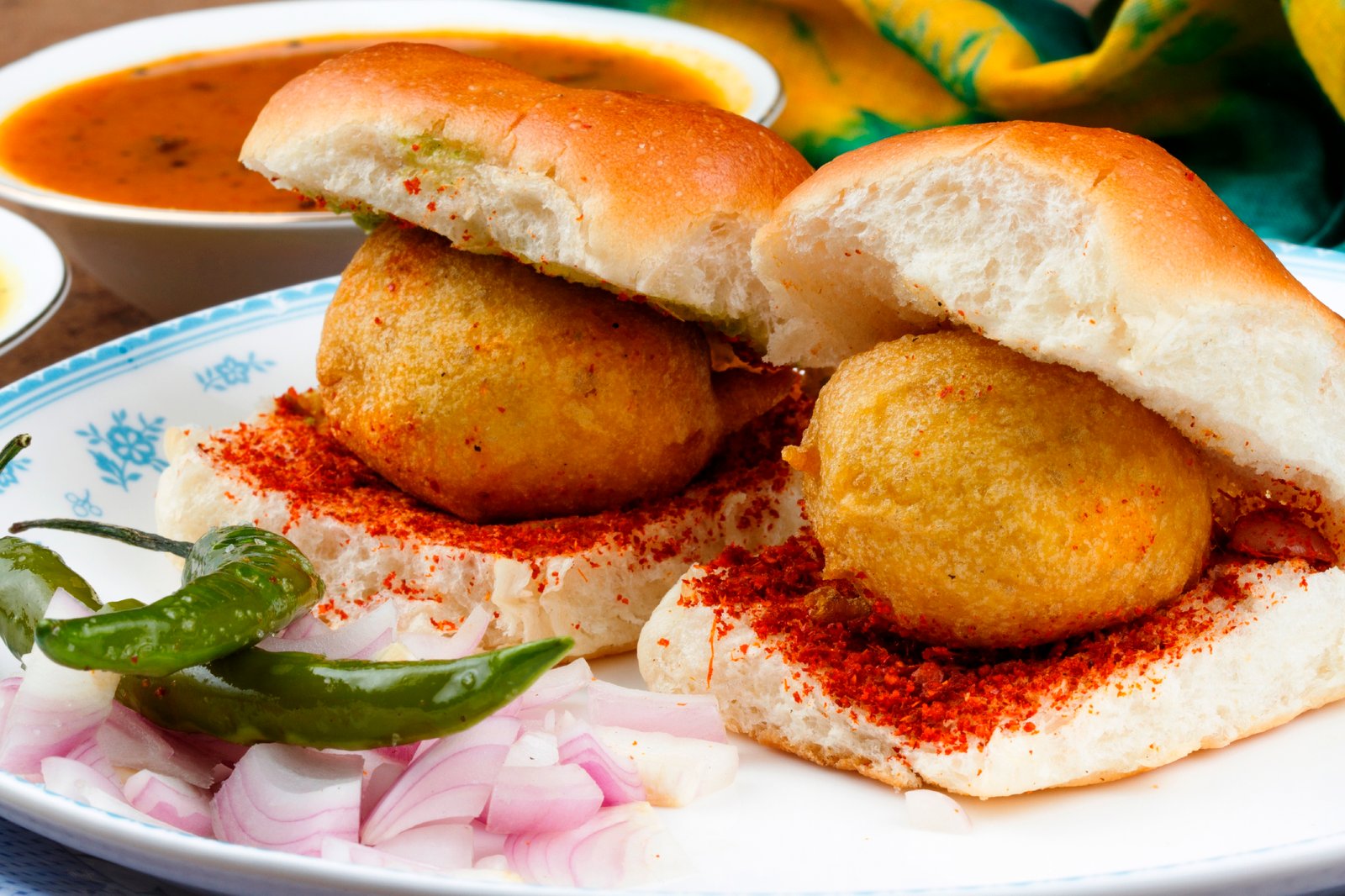 VadaPav is Mumbai's famous street food recipe. in which vada is made from spicy boiled potato mixed with red chili powder, garam masala and then deep fried in a gram flour batter. It is served with green chutney and tomato catch up. VadaPav is not just limited to Mumbai only; you can find it all over the India. Enjoy this delicious and tasty Mumbai style vadapav recipe.
Ingredients
– 250 gm potatoes
– 100 gm Besan (gram flour)
– 1 teaspoon finely chopped green chili
– 2 finely chopped onion
– 1 teaspoon ginger-garlic paste
– 1/2 teaspoon turmeric powder
– 1 teaspoon garam masala powder
– 1 teaspoon finely chopped coriander leaves
– ? teaspoon mustard seeds
– 8-9 curry tree leaves
– 1/2 teaspoon bicarbonate of soda
– Salt to taste
– Oil for frying
– 1/2 teaspoon red chili powder
– 4 pavs
– meethi chutney
– teekhi chutney
– dry garlic chutney
How To Make?
1. Take a pot and add potatoes and water to it and boil it.
2. Now, Remove the potatoes from the pot and let it cool after that crushed the potatoes well.
3. In a frying pan, add mustard seeds, when mustard seeds splutter add oil and curry tree leaves and fry it for 1-2 seconds.
4. Then add crushed potatoes, ginger-garlic paste, onion, turmeric powder, and salt and cook it for 2-4 minutes.
5. Then add garam masala, green chilies and coriander leaves and again cook for 4 minutes.
6. Once it ready remove it from the heat and keep it aside to let it cool. Once the mixture becomes cool, then make 5 equal part of the mixture and make small round balls from the mixture.
7. Now, in a bowl add besan (gram flour), bicarbonate of soda, red chili powder, salt and water and make a batter from it.
8. Take a frying pan and add oil to it and heat the oil.
9. Now, add the previously made potato balls in to this besan mixture and put it into the oil and deep-fry it until it becomes golden brown.
10. Now, Slit a pav horizontally. Sprinkle 1 teaspoon oil to non-stick pan and bake the pav for 1-2 minutes.
11. then apply green chutney and methi chutney on the both part of the pav and place vada in the middle of the pav.
12. Serve it hot with green chutney and tomato ketchup.
Preparation Time: 15 Minutes
Cooking Time: 15 Minutes