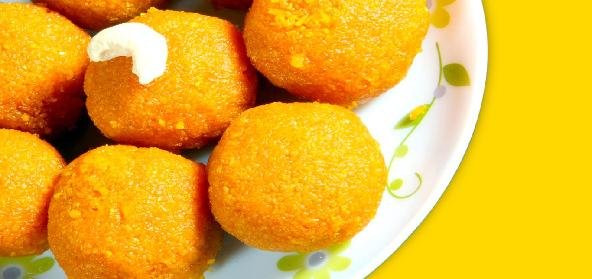 Ingredients:
• 2 cups – good quality besan
• 3 cups- Sugar
• 2 tsps – Rice flour
• 1 pinch – baking soda
• 1 pinch – Kesar powder (optional)
• 1 tsp – elaichi powder
• 2 tbsp – Cashew nuts broken
• a few Raisins
• a few Cloves
• diamond sugar(optional)
Method:
Make a batter using rice flour, besan or chana dal atta, baking soda, kesar powder with water to a thick pouring consistency.
The batter should be slightly thicker than dosa batter. Heat a kadhai with cooking oil or ghee and make boondis with a boondi maker.
Fry till boondis are golden brown. In a separate vessel which should be wide mouthed, heat 3 cups sugar with 1 cup water till sugar is dissolved and you achieve a single string consistency. Remove from fire.
Add the fried boondis to the sugar syrup and keep mixing. Repeat this procedure till all the batter is exhausted. Leave the mix for 4 to 5 hours. Drain the boondis.
Heat 1 tbsp ghee in a pan. Fry kishmish(raisins), kaju and cloves. Add this to boondis.
Fry the cloves separately and powder them and add if you don't like it whole. Add 1tsp of elaichi powder and sugar cubes(small).
Make ladoos of desired size and store in an airtight box.
Keeps for 1 month without refrigerating.
Recipe courtesy of Uma