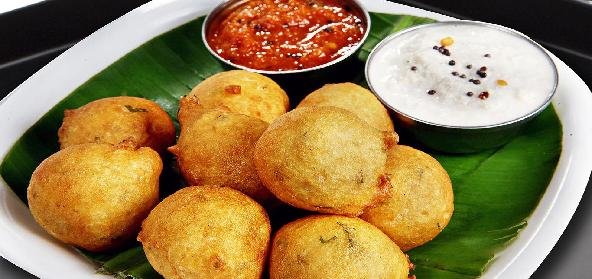 Ingredients:
• 3 – medium Potatoes
• 2 – medium Onions
• 1 tbsp – boiled Green peas
• 2 – Green chillies
• 1 tsp – Lemon juice
• 1/2 tsp – Sugar
• 1 tsp – Mustard Seeds
• 1 tsp – Cumin seeds
• 1/2 tsp – Turmeric powder
• 1 tbsp – oil
• Salt to taste
• Fresh Coriander leaves
• Fresh Curry leaves
• 7-8 slices – bread (to cover bondas)
Method:
Boil potatoes. Peel and mash with hands.
Chop onion into thick pieces, along with green chillies and coriander.
Heat oil, add mustard and cumin seeds.
When they splutter, add turmeric powder. Next add chopped onions, green chillies and curry leaves. Fry till golden brown.
Add boiled green peas, lemon juice, sugar, salt and coriander leaves, and fry for a few seconds.
Add mashed potatoes, mix well and fry on low fire for a minute.
Remove from fire, mix well and cool. Divide into small balls.
Take a slice of bread, dip in water and squeeze out any excess water.
Put one potato ball in the centre of the bread and cover it.
Heat oil in a pan and deep fry the bread bonda until golden brown.
Serve hot with tomato ketchup.
Recipe courtesy of Anupama Naik