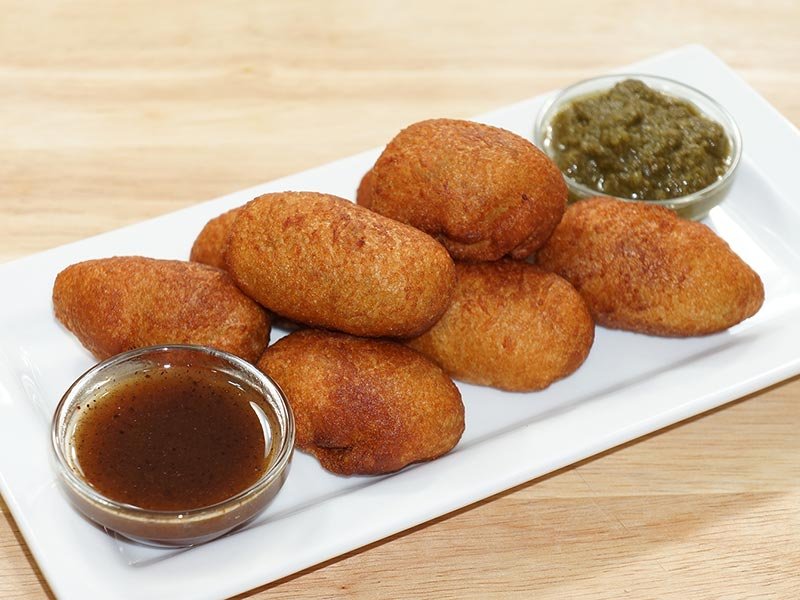 A mouth watering evening snack with bread and potatoes mixture
Ingredients:
1 cup mashed potato
1/4 cup chopped onion
1-2 chopped green chilies
6 big bread slices
1/4 teaspoon red chilli powder
1/4 teaspoon turmeric powder
1/4 teaspoon garam masala powder
1/4 teaspoon amchur (dry mango powder)
1 teaspoon dry fenugreek leaves (kasoori methi)
Salt to taste
Vegetable oil as required
Method:
1. Heat oil in a pan and fry onion until golden brown.
2. Now add green chilies, red chilli powder, garam masala, amchur, fenugreek leaves, salt and fry for a minute.
3. Add mashed potatoes and mix well, turn off the heat and keep aside to cool.
4. Cut the edges of the bread, soak in water and then squeeze out the excess water by pressing the bread slice (flat) between the palms.
5. Put some potato mixture in the center of the bread slice and seal all its edges.
6. Gently roll it between your palms to give it a cylindrical shape. (Ensure that the edges are completely sealed with the bread slice)
8. Similarly make rest of the bread rolls.
9. Deep fry these bread rolls in pre-heated oil on medium heat until golden brown.
Cooking time: 15-20 minutes