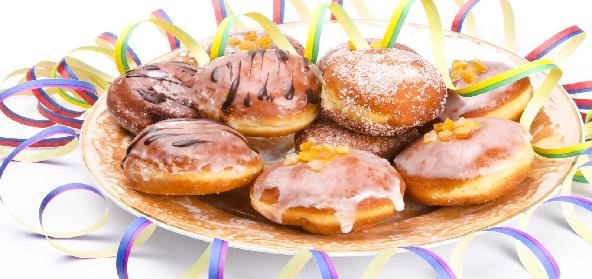 Ingredients:
• 30 gm (1 oz) – compressed Yeast
• 1/4 cup – lukewarm water
• 60 gm (2 oz) – Butter
• 1 cup – Milk
• 1/4 cup – Sugar
• 2 eggs
• 3.25 cups – plain flour
• 1 tsp – grated Lemon rind
• 1 Egg white
• Raspberry jam
• oil for deep frying
• 1 tsp – salt
Method:
Dissolve yeast in lukewarm water.
Put butter and milk in saucepan, stir over heat until butter has melted, cool to lukewarm.
Beat together yeast mixture, buttermilk mixture, sugar, eggs and salt.
Add sifted flour and lemon rind, beat well.
Cover, let rise in warm place, until doubled in bulk (approximately 40 minutes).
Turn on to floured board, knead lightly.
Roll dough out to approximately 1 cm floured cutter.
Brush half of rounds with lightly beaten egg white, put 1 teaspoon of raspberry jam in center of other rounds.
Top jam rounds with remaining rounds, pinching edges together firmly.
Cover; let rise in warm place until almost double.
Deep-fry a few at a time in hot oil until golden brown, turning once.
Drain on absorbent paper; dust with sifted icing sugar.