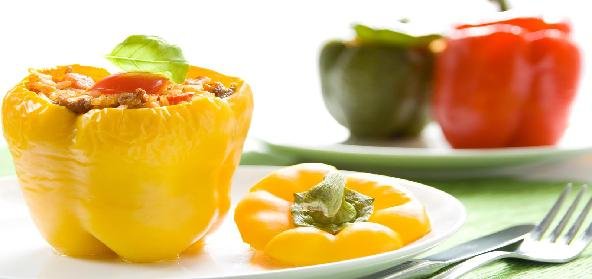 Ingredients:
• 4 – medium-sized, firm Capsicums
• 1/2 cup – Corn kernels
• 1/2 cup – peas
• 1/2 cup – cheese, grated
• 1/2 tsp – garlic, crushed
• 1 – green chilli, crushed
• 1 slice – day-old bread
• 1 tbsp – Butter
• salt to taste
Method:
Cut top off like a small lid. Keep stalks intact.
Run the bread in a dry mixie to prepare crumbs.
Put the capsicums and their tops in salty boiling water for 3-4 minutes.
Drain, blot with butter and keep aside.
Place the butter in a microwave-safe large bowl. Melt the butter in a microwave for 10 seconds. Remove, add the washed kernels and peas and sprinkle some water.
Cover the bowl with a loose lid or a cling film (pierce for steam to pass). Microwave on medium for 4 minutes.
Remove, add chilli, garlic, half the cheese, salt and the bread crumbs.
Put the bowl back into the microwave and cook on high for 2 minutes.
Stuff the mixture into the capsicums.
Sprinkle cheese on the stuffing and place the lid back.
Microwave in open for 2 minutes on high.
Let it stand, with the lid covered, for 3-4 minutes. Serve hot with dinner rolls and ketchup.
Recipe courtesy of Bindiya Garg