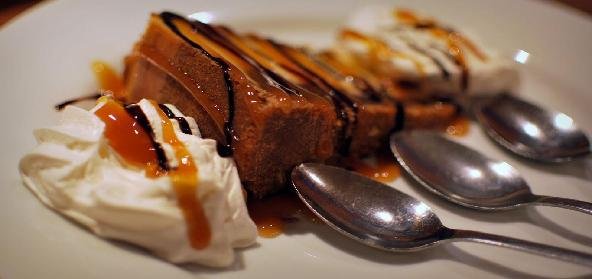 Ingredients:
• For caramel syrup:
• eggs – 3, separated
• Sugar – 1/2 cup
• boiling water – 1/3 cup
• For cake:
• self-rising flour – 3 cups
• Butter – 1 cup
• Brown sugar – 1/2 cup, packed
• vanilla – 1 tsp
• caramel syrup – 1/2 cup
• Milk – 3/4 cup
• salt to taste
• For filling:
• soft Paneer (Channa) – one and a half cup
• Sugar – 1/2 cup
• Cardamom powder – 1/2 tsp
• Pistachio nuts to garnish
• Saffron a big pinch
Method:
For caramel syrup:
Place the sugar in a heavy saucepan.
Sprinkle with 2 tbsp of water.
Place on a medium flame and allow the sugar to caramelize.
Remove from fire, stir in the boiling water.
Allow to cool.
For cake:
Cream butter and sugar till light and fluffy.
Add the yolks, one at a time, beating well after each addition.
Beat in the essence.
Combine flour with salt.
Fold into the creamed mixture alternately with caramel syrup and milk.
Fold in the egg whites, beaten to soft peaks.
Divide the mixture into two prepared tins. Bake in oven till done about 25-30 minutes.
For filling:
Combine sugar with Chana and stir over a low flame till sugar is dissolved.
Continue to cook and stir till the mixture is of spreading consistency.
Dissolve saffron in 1 tsp of warm milk and add to the cooked mixture. Add cardamom. Sandwich the two cakes with the 2/3 of the filling.
Spread the remaining on top and sprinkle with sliced Pistachio nuts.
Variation:
Cream cheese may be used instead of Channa.