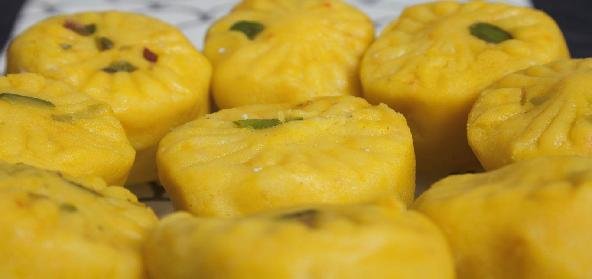 Ingredients:
• 250 g – Cashew nuts
• 250 g – Sugar
• 200 – ml Milk
• Silver foil – for decoration
Method:
Blend together finely cashews and milk in a blender.
Put the paste in a kadai, add sugar and cook over low flame. Stir till the sugar dissolves and then bring to a boil.
Continue stirring over medium flame, till mixture collects together and becomes a mass of dough
Remove from flame, cool, roll on to a greased surface, with a greased rolling pin to 1/4 cm ( 1/8″) thickness.
Cover with silver foil and cool.
Cut into diamond shaped pieces and transfer onto a serving dish.
Recipe courtesy of Sify Bawarchi