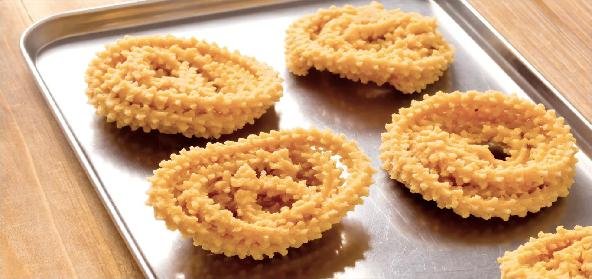 Ingredients:
• 1 cup – moong dal
• 2 cups – water
• 3 cups – all-purpose flour (maida)
• 1 tsp – Cumin seeds
• 1/2 tsp – sesame seeds
• 1 tbsp – chilli powder
• salt to taste
• oil (for deep frying)
Method:
Mix 1 cup of moong dal and 2 cups of water in a vessel.
Tie 3 cups of all-purpose flour in a muslin cloth. Place them in a pressure cooker and steam cook them.
Make a smooth paste of boiled moong dal.
Remove all-purpose flour from muslin cloth.
Break all the lumps in it. (If necessary, sieve it to remove small lumps)
Mix all-purpose flour with moong dal paste.
Add cumin seeds, sesame seeds, red chilli powder and salt.
Mix all the ingredients thoroughly to form a medium soft dough.
Use the chakli press and press out circles of desired diameter.
Deep fry in oil on medium heat till golden.
Drain and cool.
Recipe courtesy of Sandhya