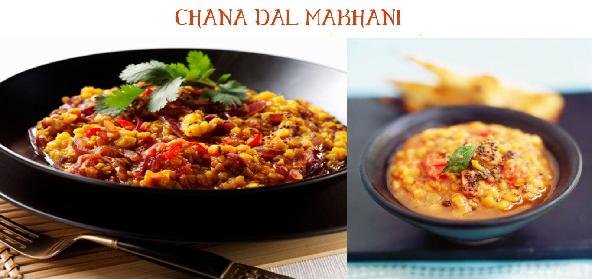 Ingredients:
• Channa dal – 1 cup(200 g)
• makhana – 1 cup
• vegetable oil – 8 tbsp
• Jeera – 1/2 tsp
• tejpatta(bay leaves) – 2
• Garam Masala:
• Cloves – 4
• green Cardamoms – 2
• Cinnamon – 1″ thin strip
• Onion – 1 medium size (finely chopped)
• Ginger Garlic paste – 1 heaped tbsp
• Tomato – 1 medium (chopped)
• Powdered Masala:
• Haldi powder – 1/2 tsp
• Red Chilli powder – 1 tsp
• Garam Masala powder – 1 tsp
• Dhania patta – a bunch(chopped finely)
• Sugar – 1/2 tsp
• desi ghee- 2 tbsp
• salt to taste
Method:
Boil the dal with salt and haldi powder in 750 ml water. Pressure cooking on medium flame for 8 minutes after it whistles is a good measure of time.
Dal should become tender but not so much that it breaks after boiling.
The dal structure must remain intact.
Heat 2 tbsp desi ghee in a karahi or thick frying pan.
Fry the makhana in it on low flame till it starts turning pink. Turn off the flame.
Transfer the fried makhana to a dry vessel.
Heat the oil in the karahi. Put jeera, tejpatta, garam masala into it.
When the jeera begins to splutter, add chopped onion.
Saute for 4 minutes on medium heat or till onion turns transparent and pinkish.
Mix the ginger garlic paste with a little water and strain out the juice of the paste completely.
This is done so that the dal consistency remains smooth.
Add the ginger garlic juice to the onion being fried in the karahi.
Saute for 2 minutes. Add the chopped tomatoes, powdered masalas, sugar and half tsp salt.
Saute for 3 minutes. Put the chopped dhania patta, and the boiled dal. Stir and boil the whole thing for a minute.
Add the leftover desi ghee and put off the flame. Add fried makhana and stir.
Serve with pulao/plain rice along with aloo ki bhujia and papad.