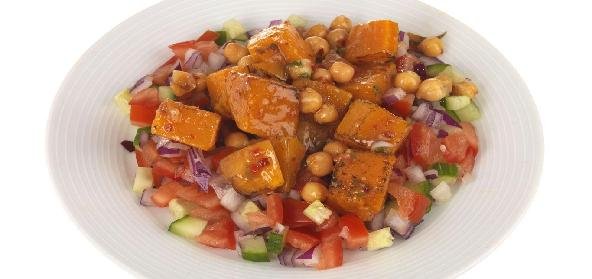 Ingredients:
• 2 cup Kabuli Channa (boiled)
• 2 Potatoes
• 150 grams Paneer (cottage cheese)
• 2-3 firm Tomatoes
• 1 Onion
• 2 Green chillies
• 1 bunch Coriander leaves
• salt, Red Chilli powder to taste
• 1 tsp chaat masala
• juice of one Lemon
Method:
Boil the potatoes (microwave for 5 mins or pressure cook) and cut them into tiny pieces. Finely chop, tomatoes, green chillies and onions.
Cube the paneer into small pieces.
In a large salad bowl mix together the boiled chana, potatoes, onions, tomatoes, paneer and green chillies.
Add salt, red chilli powder, chaat masala and lemon juice.
Add finely chopped coriander leaves.
Mix the whole salad together and chill for a couple of hours. It's a great side dish which everybody will love.
Recipe courtesy of Shobha Venkateswaran