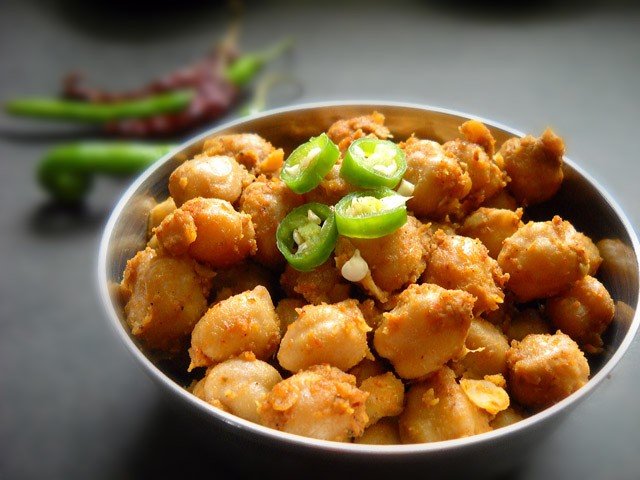 A hot and spicy dry dish of chickpeas made in Indian spices
Ingredients:
2 cups (400 gm) kabuli chana (chickpeas)
A pinch of baking soda (sodium bicarbonate)
5 tablespoon (75 ml) oil
1/2 teaspoon cumin seeds
1 tablespoon gram flour
1/2 teaspoon anardana (dry pomegranate) powder
2 teaspoon amchur (dry mango powder)
1 teaspoon red chilli powder
1 teaspoon rock salt powder
1/2 teaspoon kasoori methi (dry fenugreek leaves) powder
1 teaspoon roasted cumin powder
Salt to taste
For the small bag
6 black cardamom
1 stick cinnamon, powdered
4 cloves
1 teaspoon crushed ginger
1/2 teaspoon tea leaves (dry)
Method:
1. Soak kabuli chana (chickpeas) and sodium bicarbonate (baking powder) overnight.
2. Put black cardamom, cinnamon powder, cloves, ginger and tea leaves in a small piece of muslin cloth and tie it with a string to make a pouch (potali).
3. Next day boil soaked chana in a pressure cooker with the potali for half an hour. Remove potali, drain chana and keep aside.
4. Heat oil in a pan, add cumin seeds.
5. When it crackles, add gram flour and stir-fry until it smells cooked or until light golden brown.
6. Then add anardana powder, amchur powder, red chilli powder, rock salt, kasoori methi, cumin powder and stir fry for a minute.
7. Add boiled kabuli chana and fry until well mixed.
8. Garnish with tomato slices, onion rings, green chilies, lemon and ginger.
Cooking time: 35-40 minutes