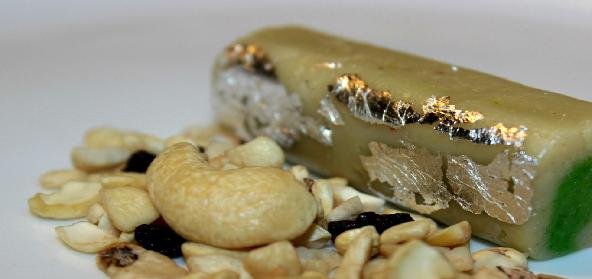 Ingredients:
• 15 oz. – Ricotta cheese
• 15 oz. – Sugar
• 2 cups – Coconut (dry, found in Indian stores)
• 15 oz. – powdered Milk (carnation)
• 1/2 cup – melted Butter or Ghee
• 1/4tsp Cardamom powder
• 2 drops – food colouring (green or yellow)
Method:
Place Ricotta cheese in a saucepan and heat on medium heat.
Keep stirring until the cheese turns into a light brown colour.
Add sugar and keep stirring until the sugar is completely dissolved.
Add coconut and cook until it becomes thick.
Add the milk powder and mix it well – at the same time, also add a little of the ghee, powdered cardamom and the food colour.
When the mixture is well incorporated and thick, remove from heat.
The mixture is ready when it starts leaving the sides of the saucepan.
Pour the mixture into a greased pan.
Cool and cut into small pieces.
Recipe courtesy of Ami