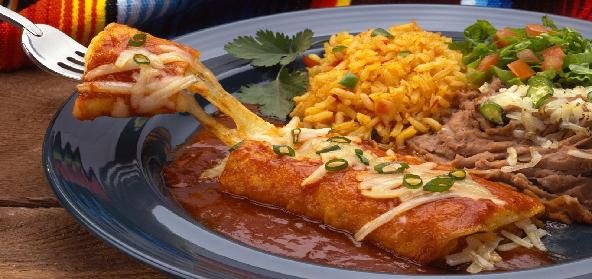 Ingredients:
• 12 Corn tortillas
• 3/4 cup – salsa fresca
• 1 cup – cheese, shredded
• 1 cup – lettuce, shredded
• 2 – tomatoes, sliced
• salad oil as required
• For Cheese Filling:
• 3 cups – Cottage cheese
• 1 cup – cheddar cheese, shredded
• 1 1/2 cups – spring onions, finely chopped
• 1/4 tsp – Oregano leaves, dried
Method:
In a pan, heat oil and fry the tortillas till slight blisters appear.
Remove from the pan and drain on paper towels to remove any excess oil.
Now spread a third of the salsa in a baking dish.
Then spoon cheese filling on each tortilla and spread all over.
Place each tortilla with the filling face down over the salsa in the baking dish.
Then put the remaining salsa and the cheese filling over the tortillas and bake uncovered.
Once done, garnish with shredded lettuce and tomatoes.
To make cheese filling:
Blend the cottage cheese, shredded cheddar cheese, onions, dry oregano leaves in a blender and keep aside.