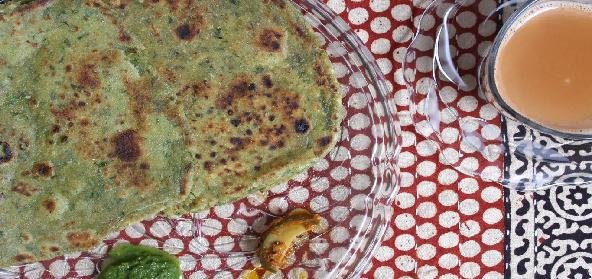 Ingredients:
• 1 bunch – Spinach
• 50 g – Cauliflower
• 50 g – grated cheese
• 1 tsp -crushed Garlic
• Salt
• 250 g – Wheat flour
• Oil
Method:
For stuffing:
Wash and chop the spinach.
Heat 1/2 tsp of oil in a pan, fry chopped garlic.
Add the spinach and chopped cauliflower.
Stir fry the vegetables and keep aside.
Add grated cheese and a pinch of salt to the vegetables.
For paratha:
Knead the wheat flour and make small balls.
Take 1 ball, stuff the spinach mixture and roll out into parathas.
Cook on both sides, with a little oil.
Enjoy the paratha with curd.
Recipe courtesy of Jyotsna Solanki