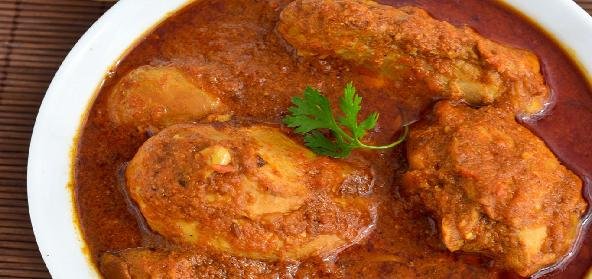 Ingredients:
• 1 whole Chicken (chopped into medium-sized pieces)
• 1 tub of Curd (about 2.5 cups)
• 1 cup – roasted and skinned Peanuts
• 3 – medium-sized Onions
• 1 cup – chopped coriander
• A large piece of Ginger
• 6 to 7 – Green chillies
• Salt and pepper to taste
Method:
Clean and chop the chicken.
Marinate it for at least 10 hours in a mixture of curd, salt, and black pepper.
Make a paste of the onions, green chillies, coriander, and ginger.
Grind the peanuts into a paste separately.
Saute the green paste in butter (could replace it with oil, if desired).
When the paste begins to turn golden, add the peanut paste and one tablespoon of the curd from the marinade.
Stir well to make a thick curry.
Now add the chicken pieces, carefully wiping away all excess curd.
Cover and cook on medium heat. It will not take more than 15 minutes for the chicken to cook.
When the chicken is done, add the remaining curd from the marinade; bring to a quick boil and take off heat.
Garnish it with some coriander and slivers of ginger.
Serve hot with kulchas.
Recipe courtesy of Ritu