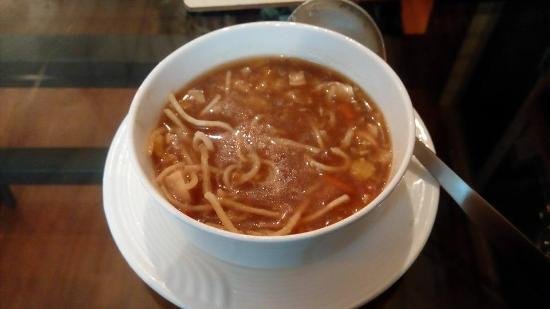 Famous Chinese hot and spicy chicken soup, very easy to prepare
Ingredients:
For Chicken Stock
1 piece chicken breast
6 cups water
1 tablespoon celery chopped
2 inch ginger piece
1/2 teaspoon whole black pepper
1 teaspoon salt
For Soup
1/2 cup cooked and shredded chicken breasts
4 cups chicken stock
1/2 cup chopped mushrooms
1 cup shredded cabbage
1/2 cup chopped spring onion
3 tablespoon cornflour (dissolved in 6 tablespoon water)
1 tablespoon chopped coriander leaves
2 teaspoon finely chopped ginger-garlic
1 tablespoon finely chopped green chilies
1 tablespoon soya sauce
1 teaspoon pepper powder
Pinch ajinomotto (optional)
2 tablespoon fried noodles for garnishing
Salt to taste

Method:
1. For preparing the chicken stock, mix all the chicken stock ingredients and boil over low heat until the chicken is cooked. Strain the stock and reserve the chicken breast for use in soup.
2. Cool the stock and refrigerate.
3. Heat oil in a pan, fry garlic, ginger, green chilies for one minute.
4. Add mushrooms, cabbage and spring onion and stir fry with little salt and ajinomotto until the vegetables are tender.
5. Add soya sauce, chicken pieces, stock and bring to a boil.
6. Add cornflour dissolved in water and continue stirring until the soup is thickened.
7. Season with salt and pepper as required. Sprinkle chopped coriander leaves.
8. Garnish with fried noodles on top and serve hot.