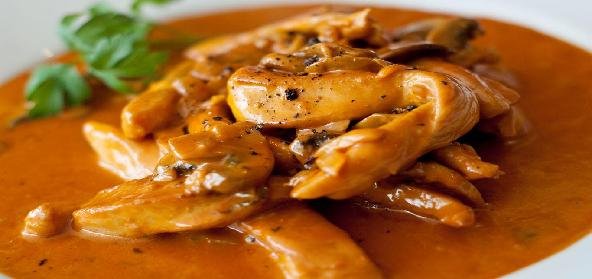 Ingredients:
• 3 Spring onions cut into rings
• 1 tbsp- chilli powder
• 3 tbsp- Butter
• 1 capsicum, cut into rings
• 1 Chicken (approx. 1.2 kg)
• 5 oz- Tomato puree
• 1 tbsp- Ketchup
• 1 tsp- Chilli sauce
• 1 tsp- Maida
• 6 oz- Chicken stock
• Ingredients for Potato Balls:
• 8 oz- boiled, mashed Potato
• 1 tsp- Butter
• 2 tbsp- Milk
• 1 tsp salt or to taste
• 1 tbsp- Grated cheese
• 6 tbsp- Liquid Ghee for frying
• 1egg, beaten with 1 tsp water
• breadcrumbs
• To serve:
• 2 oz -Cream (optional), boiled peas, Egg slices
Method:
Brown the chicken in a pressure cooker in 2 tbsp of butter. Add 4 cups of water and cook till done. Debone and flake chicken, and save the stock (liquid). (Later, you can boil bones with scraps of veggies for stock for soup.) Melt 1 teaspoon of butter. Cover and cook spring onion rings and capsicum rings with chilli powder for 4 to 5 minutes. Mix maida in 2 tbsp of stock (not hot) and add to the cooked onions. Stir on low fire for 2 minutes.
Mix tomato puree, ketchup, and chilli sauce and add to onions. Add chicken pieces and 1 cup of chicken stock. Cook till sauce is thicker.
Cook on medium flame for 10 minutes with the lid closed.
Method for potato balls:
Mix mashed potato, 1 teaspoon of butter, milk, and salt, and cook for a bit. Add grated cheese. Take off fire; mix and mash. Form 1″ balls.
Heat the ghee on a high flame.
Dip balls in egg and place in the plate of breadcrumbs; sprinkle more on top till coated. Do not handle or press the crumbs. Fry till light brown. To serve:
Heat chicken.
Add cream (optional). Take off fire.
Turn onto rice dish.
Decorate with peas and hard-boiled egg slices.
Recipe courtesy of Veena Gupta