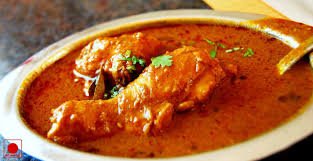 Chicken Xacuti is very popular Goan cuisine. The word ?Xacuti? is pronounced as ?Shakuti? actually this word is derived from Portuguese word ?Chacuti?. In this dish, chicken is spicy, tangy and very flavorful. This dish generally has on a festival and other special occasion. This dish is prepared with roasted spices and chicken. The dish is perfect for dinner. Let us have a look for the recipe.
Ingredients
– 800 gm chicken, cut into 12 pieces
– 4 tablespoons oil
– 1 cup scraped coconut
– 4-6 garlic cloves
– 4 dry red chillies, broken
– 1 teaspoon cumin seeds
– 1 ? tablespoons coriander seeds
– 10 black peppercorns
– 1 teaspoon fennel seeds
– 1 teaspoon carom seeds
– 2 tablespoons poppy seeds
– 6 cloves
– 2 inch of cinnamon stick
– 4 star anise
– ? teaspoon turmeric powder
– 2 medium finely chopped onion
– Salt to taste
– 1 tablespoons tamarind pulp
– ? teaspoon grated nutmeg
How To Cook?
1. In a pan, heat one tablespoon of oil and add coconut scrap to it and saut? it until light brown. Transfer it to the mixture jar.
2. In the same pan, dry roast red chillies, cumin seeds, coriander seeds, black peppercorns, fennel seeds, carom seeds, poppy seeds, cloves, cinnamon stick and star anise till fragrant.
3. Add all these dry roast spices along with garlic cloves, turmeric powder and a little water to the coconut in the mixture jar and grind this all ingredient together and make a smooth paste.
4. Heat the remaining oil in a deep pan and add chopped onions and saut? it till well browned.
5. Now, add chicken and saut? it on HIGH heat for about 2-3 minutes.
6. After that add masala paste and salt to it and mix well.
7. Then add 2 cups of water to it and stir well.
8. Add tamarind pulp and grated nutmeg and stir it again.
9. When it starts boiling reduce the heat and cover the pan with its lid and cook it for about 30 minutes.
10. Serve hot with steamed rice.
Preparation Time: 10 Minutes
Cooking Time: 1 Hour
Servings: 2-3 Persons