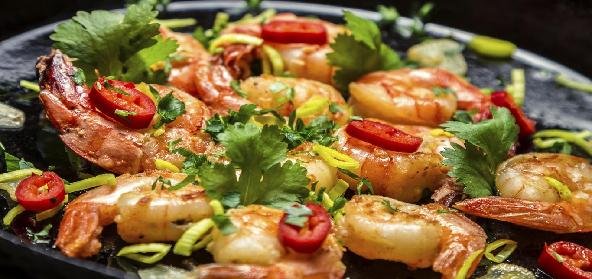 Ingredients:
• Prawns – 300 gm
• Ginger(ground) – 5 gm
• Cornflour- 2 tbsp
• Egg -1
• Salt- as per your taste
• Oil – 3 tbsp
• For the Sauce:
• Tomato Puree- 1 tbsp
• Onion- 1(big)
• Garlic(chopped) – 1 tsp
• Green chilli – 1
• Chilli Sauce- 2 tbsp
• Soya Sauce- 2 tbsp
• Tomato sauce- 2 tbsp (optional as Tomato puree is already there)
• Corn flour- 1 tsp
• Water – 2 tbsp
Method:
Marinate the prawns with salt and the ground ginger, keep it aside for 15-20 minutes.
Make a paste by mixing the egg yolk with the corn flour and coat the prawns with this paste.
Now, heat the oil and fry the prawns.
Keep it aside for a while.
Heat another pan with oil and put the chopped onions ,chopped garlic and green chilli in it.
Fry until the onion turns golden brown.
Now, add the tomato puree,chilli sauce and soya sauce and stir it for a while.
Mix the corn flour and water and form another paste.
Now,pour this into the sauce to form a thick consistency.
After 3-5 minutes add the prawns and cook for a while.
Recipe courtesy of Sify Bawarchi