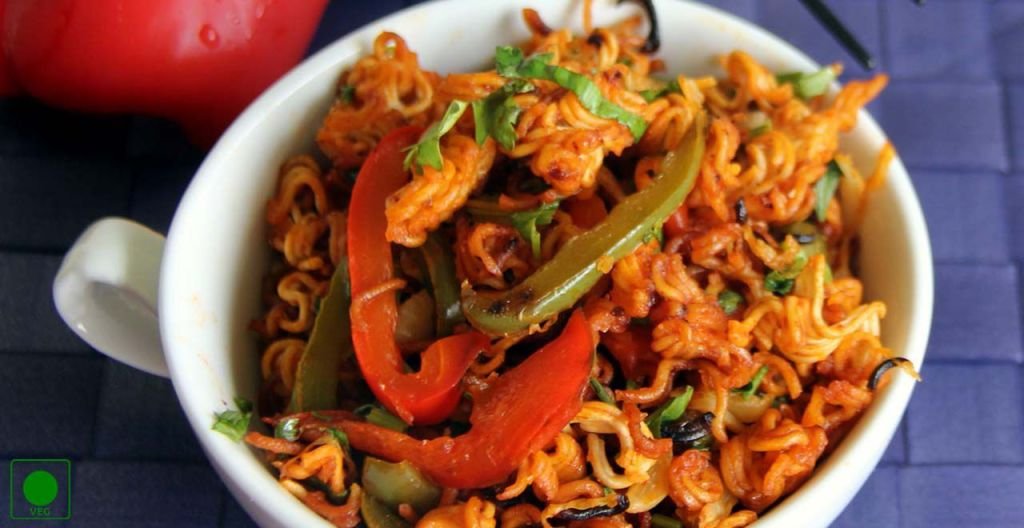 "Chinese bhel" a mouthwatering indo-chinese recipe. It is very tasty and delicious snack. In Mumbai and also across India, Chinese bhel is very popular as a street food. This snack is fusion recipe of Indian ingredient and Chinese taste. Generally it is made with crispy fried noodles, vegetables and tossed with sauce. The crunchy and saucy Chinese bhel recipe is here.
Ingredients
– 100 gm noodles
– 1 cup finely sliced onion
– 1/2 cup shredded cabbage
– 1 cup shredded carrot
– 1/2 cup sliced capsicum
– 1/4 cup bean sprouts
– 2 tablespoon corn flour
– 1 tablespoon soy sauce
– 2 tablespoon tomato ketchup
– 1 tablespoon vinegar
– 1 tablespoon red chili sauce
– 1 teaspoon aaji no motto
– 1 teaspoon chopped garlic
– 1 teaspoon ginger juliennes
– 4-5 chopped green chilies
– Salt to taste
– 1 teaspoon black pepper powder
– 2 tablespoon oil
– Oil for deep frying
– 1 tablespoon chopped spring onion (for garnish)
– 2 tablespoon chopped fresh coriander leaves (for garnish)
How To Make?
1. First, cook the noodles in boiling water and add 1/2 teaspoon of oil and salt in it. When the noodles cooked, drain the excess water and add the noodles in cold water to let them cool and again drain excess water.
2. Now, sprinkle corn flour on noodles and mix well.
3. Then deep fry them till crispy and crush the noodles slightly.
4. In another bowl, heat the oil and add chopped garlic, chopped chilies and ginger juliennes and saute it for a minute.
5. Now, add onion, cabbage, carrot, capsicum, bean sprouts, aaji no motto now again saute it for 2 to 3 minutes.
6. After that add vinegar, salt, black pepper powder, tomato ketchup, soya sauce, and red chili sauce in it and mix it well.
7. Now, take a bowl and pour that mixture in it and add fried noodles and mix them well.
8. Garnish this Chinese bhel with chopped spring onion and chopped coriander leaves.
9. Your crunchy, saucy and delicious Chinese bhel is ready to serve.
Preparation Time: 10-15 Minutes
Cooking Time: 15-20 Minutes