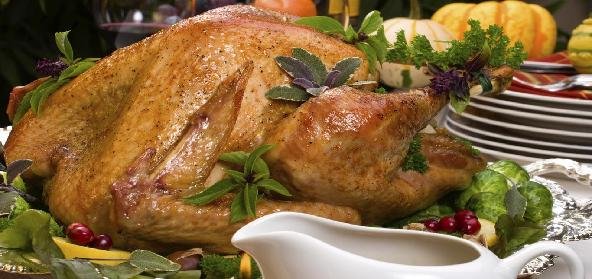 Ingredients:
• 1 whole – turkey, any size
• 1 cup – Chinese 5 spice powder
• 3 cups – Honey
• 1/2 cup – Butter
• 2 tbsp – Chinese Mustard
• 1 tbsp – fresh Thai Basil
• 2 tbsp – peeled and grated fresh Ginger
• 2 tbsp – minced fresh Garlic
• 1/2 cup – soy sauce
• salt and pepper to taste
Method:
Preheat oven to 450 F. with rack in lower third. Rinse the turkey inside and out, then pat dry thoroughly.
Heavily salt and pepper the turkey cavity.
In a small saucepan on low heat, add the remaining ingredients; cook until melted.
Place the turkey in a large roasting pan, and sprinkle the outside with salt and pepper.
Then tightly cover the turkey with foil.
Stick the turkey in the oven and immediately lower the heat to 350 F.
Roast the turkey for approximately 14 minutes per pound, basting the turkey with the pan drippings for the first half of the total roasting time.
When it is half-done, lift the foil from the turkey to pour the melted honey mixture over it, then cover again.
Continue basting every 10 minutes with the honey mixture and pan juices until the turkey is cooked.
Remove the turkey from oven and let it rest 20 minutes before serving.
Recipe courtesy of Bramaramba Chandrashekar