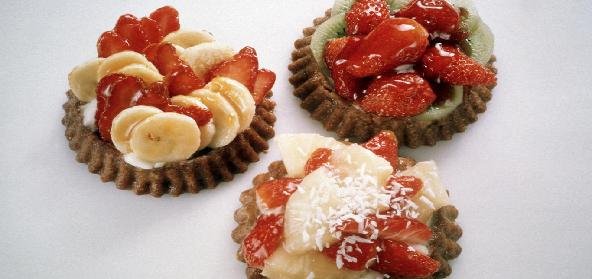 Ingredients:
• For chocolate tart pastry:
• 2 tbsp – Butter
• 250 g – chocolate Cream biscuits
• 2 tbsp – powdered Sugar
• For fruit filling:
• 1cup – Milk
• 1.5 tbsp – custard powder
• 3 tbsp – Sugar
• 1 – Peach tin chopped
• 2 slices – Pineapple chopped
• A few Orange segments
• 1/2 tsp – mix fruit essence
Method:
For tarts:
Separate the two halves of each cream biscuit and scrape out the chocolate cream filling.
Put the chocolate cream aside to use as topping.
Make crumbs from the biscuits.
Put the butter in a casserole dish and microwave on high for 1 min.
Mix in the chocolate biscuit crumbs and powdered sugar. Divide into 8 portions.
Place each portion into a glass tart bowl.
Press the mixture onto the bottom and sides to form an even layer.
Microwave on High for 2 mins until heated through and set. Allow the tarts to cool.
For fruit filling:
Take the milk, custard powder and sugar in a bowl and mix well.
Microwave on Medium for 2 mins. Stir once. Microwave on High for 1 min. Cool.
Make a puree of peach and pineapple.
Mix the puree with the cooked custard. Add orange segments.
Fill into the 8 prepared chocolate tarts. Top with chocolate cream from the biscuits and cherry.
Place the tarts in the fridge to chill.
Just before serving, place the chilled tarts in their glass bowls, in hot water for 2 mins. This will help the chocolate pastry to separate easily from the glass bowls.
Recipe courtesy of Pooja Kalla