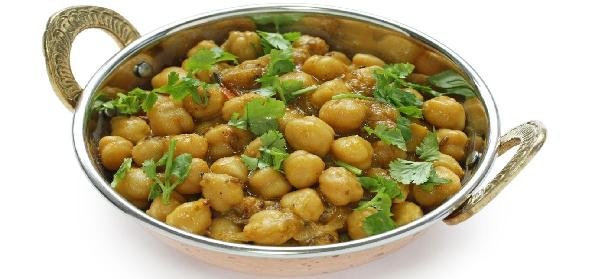 Ingredients:
• 250g Kabuli chana (chickpeas)
• 1 tsp – each of ground cardamom, garam masala, and roasted and ground Cumin seeds
• 1 tbsp – crushed Pomegranate seeds
• 2 tsp – dried Fenugreek leaves (methi)
• 1 inch – Ginger
• 1 large Onion
• 2 large tomatoes, diced
• 1 small onion, finely sliced
• 1 small tomato, cut into long thin slices
• a handful of finely sliced Coriander leaves
• 2 green chillies, sliced
• a pinch of soda bicarbonate
• salt and chilli powder to taste
Method:
Soak chana overnight.
The next morning, add salt and soda, and cook till tender and dry.
Grind together onion and ginger, and mix in methi, tomatoes, and spices; cook till dry. Mix in chana along with 1/4 cup hot water. Cook till thick.
Garnish with sliced raw onions, chillies, coriander leaves, and tomato slices.