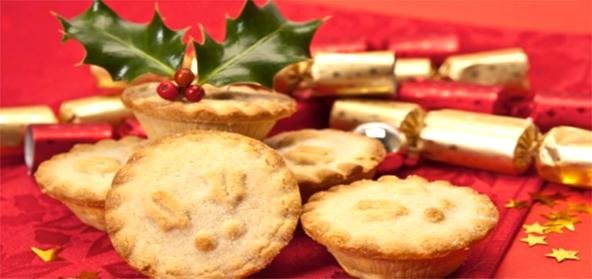 Ingredients:
• 225 gms – Plain Flour
• 125 gms – Caster Sugar
• 100 gms – Ground Almonds
• 125 gms – Margarine (room temperature)
• 1 – Egg (beaten)
• A little water, if necessary
• 450 gms – Mincemeat
• Icing Sugar
Method:
Preheat oven to 200C/400F/Gas 6. Lightly grease patty/bun tins.
Put flour, sugar and ground almonds into a mixing bowl and mix well together.
Rub margarine through the dry ingredients. Add the egg and water, if required and mix to a soft dough.
Turn onto a lightly floured board and gently knead.
Cover with cling film and keep in fridge until ready to use. The pastry will keep for about three days.
Roll pastry on a floured board and cut rounds with a cutter to fit greased bun/patty tins. Put a teaspoon of mincemeat in each and cut a 'lid' from remaining pastry to put on top.
Bake for about 15 minutes or until golden brown.
Dust with icing sugar.